Want to minimise costly power charges?
If you are a business owner running operations which consume large amounts of electricity, you will need to know how Maximum Demand works.
What is Maximum Demand?
Companies in certain industries require big amounts of power to run. These businesses often find themselves facing expensive electricity bills.
This is because they have to pay an additional charge called a Maximum Demand Charge. This is because utilities companies charge a penalty when a factory or facility draws more power than the contracted Maximum Demand.
Maximum Demand (MD) refers to the maximum power consumed in that facility, over a calculated period of time.
The Maximum Demand Charge is calculated by the amount of power used over and above the normal charge for units of electricity consumed as a Maximum Demand charge.
This often makes up a large part of the total bill – which can quickly cost business owners a lot of money!
Why is a Maximum Demand Controller important?
The short answer: a good power management system in place will help you keep costs down.
In Malaysia, depending on your Tenaga Nasional Berhad (TNB) Tariff, the Maximum Demand (MD) can go up as high as RM38.60 per kW. Your electricity bill can easily get very expensive.
Imagine this: if your facility could set a target MD which is based on target production. You would be able to optimise production while minimising costs.
This Maximum Demand Controller is a platform, which is built with a predictive algorithm to enable you to set a target MD. Once you are able to set a target MD, you will be able to work within those parameters to increase cost efficiency.
The demand is calculated every half an hour, with TNB billing for the highest peak period half-hour demand recorded for the month. This means demand controlling must be dynamic. It has to be calculated every half-hour.
Demand controlling is also required to be predictive, so that after shedding the intended load, the base load power – which are the items left on at your premises – will not exceed the target.
TNB Meters can only display the MD reading after the 30-minute period has ended. Therefore, the information will come in too late to implement active MD control.
The predictive Maximum Demand Controller (MDC) is made up of two key components.
When its algorithm predicts a high MD, it will automatically signal for load shedding. When demand is low, the Graphics User Interface (GUI) will indicate operators to maximise output by running machines harder, where feasible.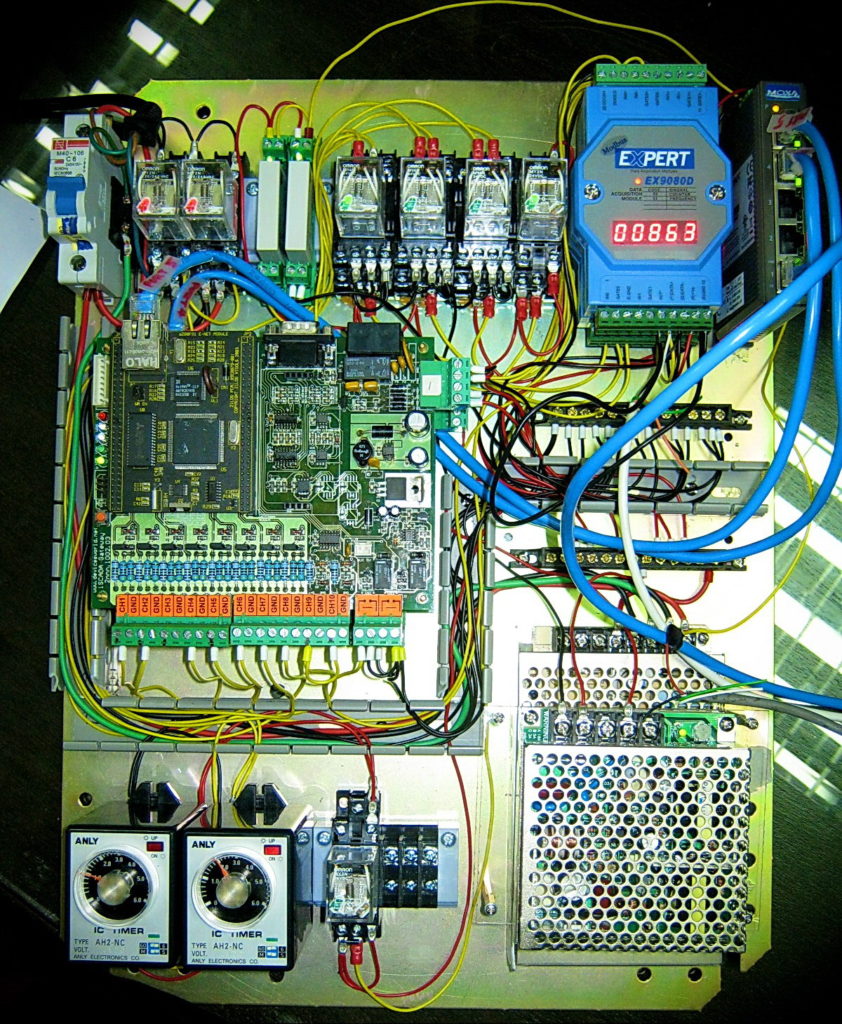 Key Features & Benefits
Predictive algorithm to minimize interruptions.
Enables production to increase output when MD is predicted to be low. This increases productivity.
First and second alarms available before automatic load shedding.
Enables Production Control and Finance to budget for a target MD, given a target production output.
Controller resolution accurate to a 20kWh pulse.
Provides real-time energy and demand cost. This allows you to know your expenditure before the month-end TNB bill.
Comparable (within 1%) to the actual TNB Bill.
Integrated with TNB Meters for accurate control. This is done with formal TNB approval prior to installation.
Proven to control a load of 60MW, base load of 40MW to a target maximum demand of between 60MW to 90MW.
Algorithm is designed for Tenaga Nasional Berhad (TNB) billing rules; suitable for all industrial tariffs.
The Maximum Demand Controller
Here is how a sample of real-time costing looks like. It displays a minute-to-minute demand chart.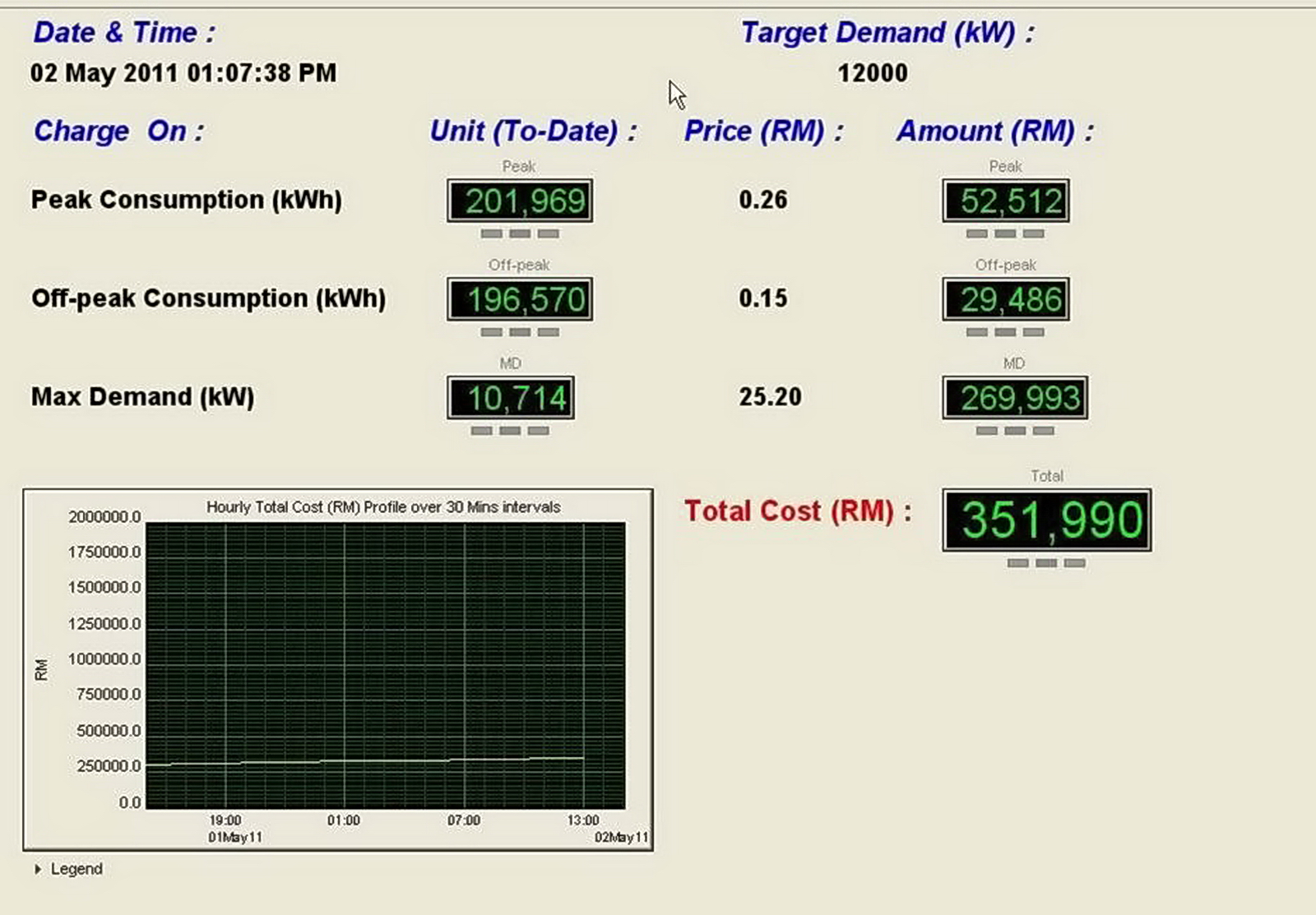 This is an example of poor power management. The recorded Maximum Demand (MD) shows many peaks and troughs. The usage of the MD has not been well-utilised. Output will not be optimal for the amount of electric fees paid. TNB bills MD based on the highest peak recorded (from 0800 hrs till 2200 hrs) for the calendar month.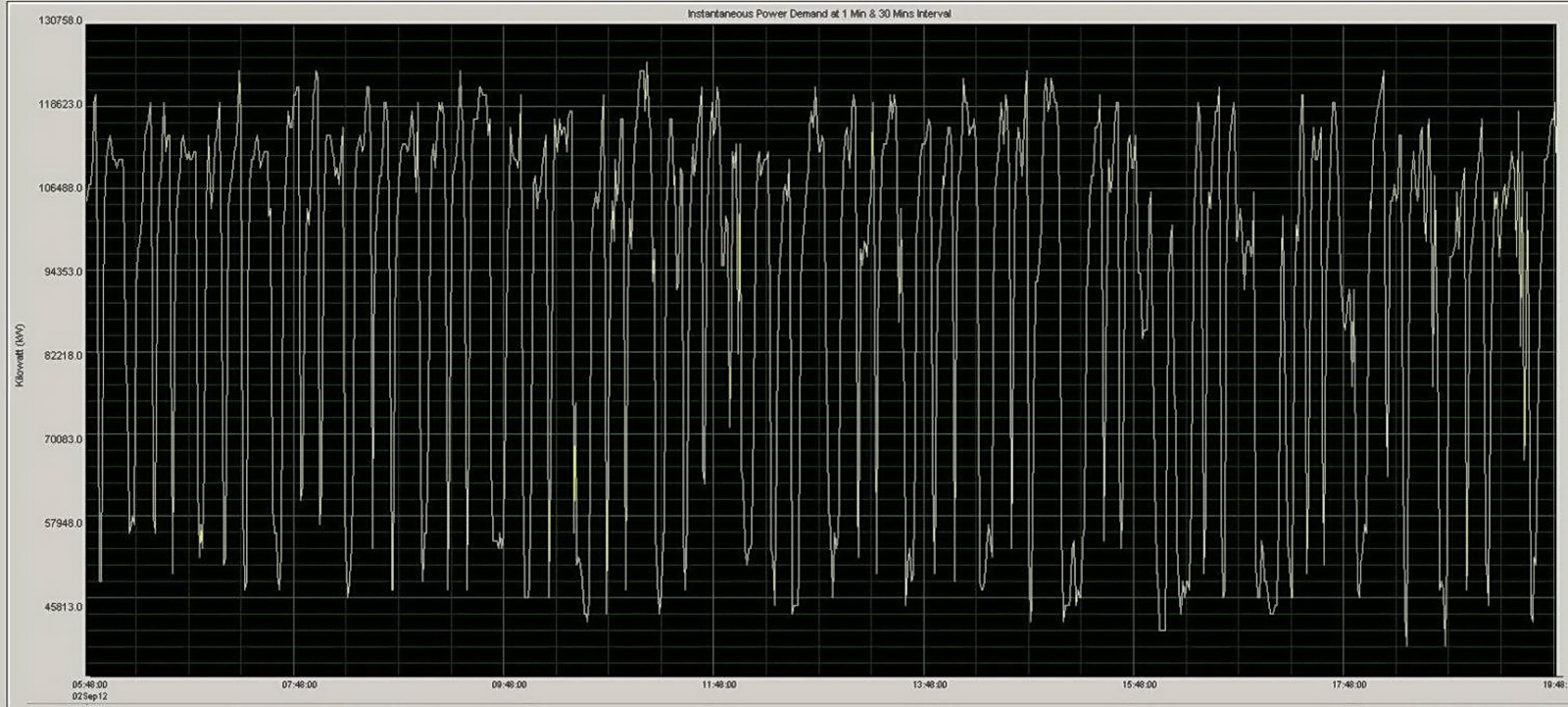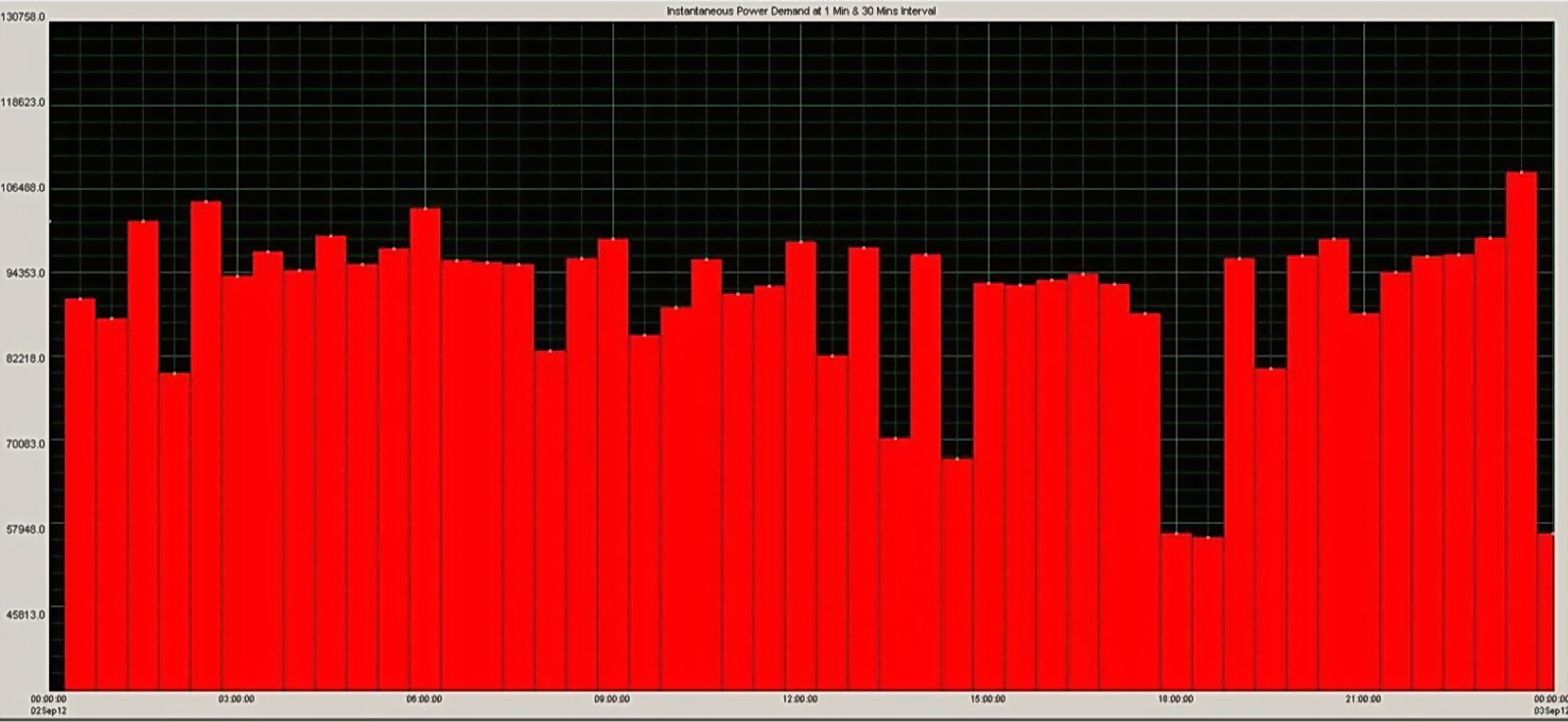 The red and green lines are the control limits while the blue line show real-time demand.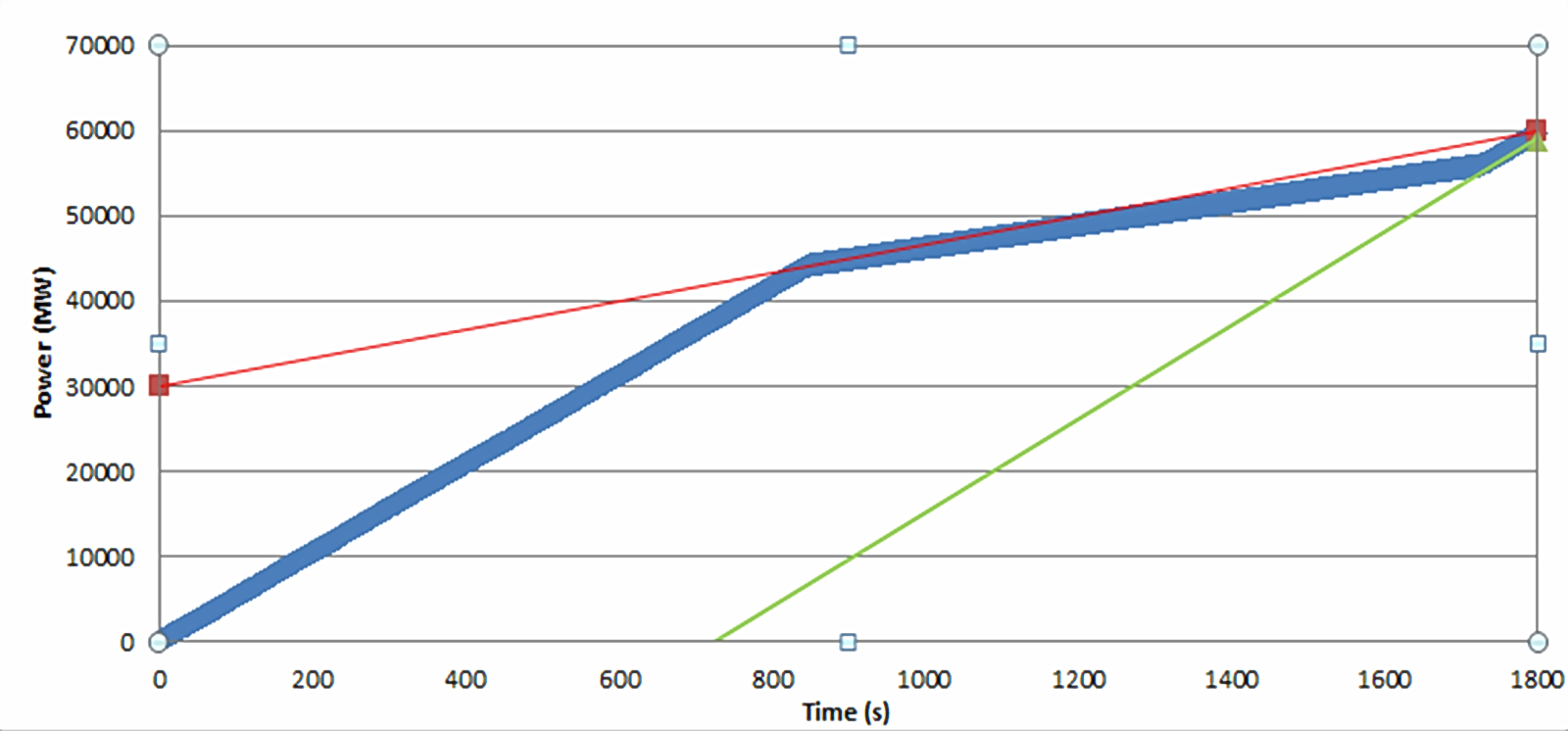 The Maximum Demand Controller (MDC) is able to turn loads on automatically before the end of each 30-minute MD cycle. This minimises interruptions and maximises productivity. This function is based on the MDC's predictive algorithm.
Requirement for MDC
For the MDC to work effectively, operations will need to have loads which can be shed when demand is high.
Possible actions in order to shed loads include: waste-processing machines, slowing down motors and machines, shutting down of non-critical machines, reduction in chiller power and usage of alternative cooling methods.
For more information on our Maximum Demand Controller, please contact us.